Make your ceremony pop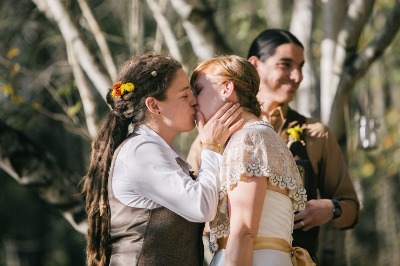 Wedding receptions are widely regarded as the part of the day you can personalise, while ceremonies are almost set in the way they run. Obviously, there are little changes each couple make but we are investigating some unexpected ways that you can change up your reception to make it completely unique. Here are some of our top picks.

Altar backdrop
There are so many things you could choose from when picking a backdrop to your 'I Dos', a full wall of your favourite flowers, a tonne of fairy lights strung down like a curtain or even a wall of pictures of the two of you and the people you love. There are endless options when it comes to making this part of your day your own and it will mean so much to you both when you are standing up there.

Readings with a twist
If some of the people reading at your wedding are married, ask them to throw in a quick bit of marriage advice when they finish with the reading. It will be nice for you guys to get a bit of advice and it's a great way to get your guests involved in the day. Be sure to emphasise the word quick though, you don't want to run behind schedule for something so minor on this of all days!

Post-ceremony food
Wedding days tend to be long in terms of gaps between food and if there's alcohol involved then you could be in for a messy situation. The best option here is to provide food after the ceremony, for example a food truck near your venue, or you could have finger food put out in the pub you know everyone will go to while you're off getting pictures taken.

Open in ten years
Before the ceremony, write your husband or wife to be a love letter and have him or her do the same for you. You could also have your guests send back some cute bits of advice or notes of support with their RSVP and you could place all of this into a jar or bottle, not to be opened until your tenth wedding anniversary. It will be lovely to look back on in years to come.
Other Features
The Great National Abbey Court Hotel & Spa in Nenagh are hosting a Wedding Fair on February 25 ...
Read More
The Station House Hotel in Kilmessan, Co Meath is hosting two Spring Wedding Showcases on...
Read More